IPA Sampler Pack Coming From Heavy Seas Brewing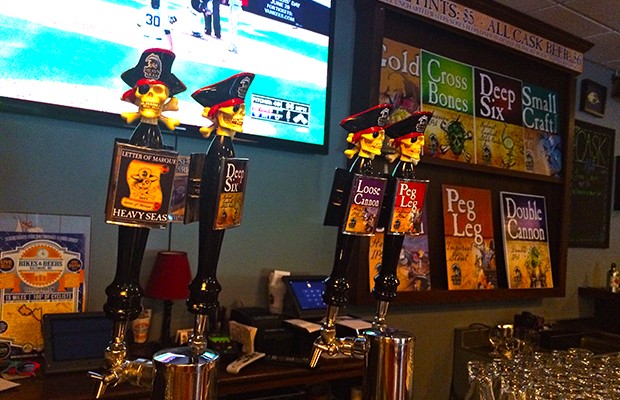 With the release of Riptide White Indian Pale Ale on July 1st, and a positive outlook on sales from their Double IPA, Double Cannon, through the first two quarters of 2015, Heavy Seas Brewing is planning to releasing a new sampler pack to big-box retailers early in 2016.
During a recent sit-down interview with The Brewer Magazine for an upcoming feature, Heavy Seas Director of Marketing and Hospitality, Fred Crudder, shared that the Baltimore-based brewery is working toward a sampler pack filled with only IPAs.
The IPA sampler 12 pack is due in January. It will be called "Heavy Seas Boatload: One Box, Four IPAs, One Boatload of Hops," according to Crudder.
There is no release date set for a 24-pack version which will be called "Shipload." It will contain a mix of year-round IPAs, seasonal IPAs, and occasional one-off releases. It will not be the same beers all year long, Crudder said. Riptide is a seasonal that will appear in the samplers during summer. "We may have a pleasant experience with sales volume with a new IPA sampler that's coming out," he said. "We don't know what to expect, except big things."
Loose Cannon IPA has been a flagship beer for the brewery that opened in 1995. It has been joined by Crossbones, a Session IPA, which debuted in January of 2015. Heavy Seas then released Double Cannon in April 2015 and by mid-June Crudder said that "the future is good for Double Cannon. It is not going away."
Double Cannon is the second time that Heavy Seas has released a Double IPA to the marketplace. In 2013, the brewery released Big DIPA, a wood-aged Double IPA that was sold in 22 ounce bombers only.
The release of Riptide gave Heavy Seas a fourth IPA to market and soon it is expected to have the quartet to be sold as an IPA sampler pack in big-box retailers, such as Costco, Sam's Club and BJ's Wholesale.
"We all know what IPAs are doing these days and … they are big on sampler packs," said Crudder. "So an IPA sampler pack could be a big deal."
Previous names for Heavy Seas sampler packs have gone by "Plunder Pack" and "Sunken Sampler."