Hell's Keep by Squatters Earns Fourth Great American Beer Festival Medal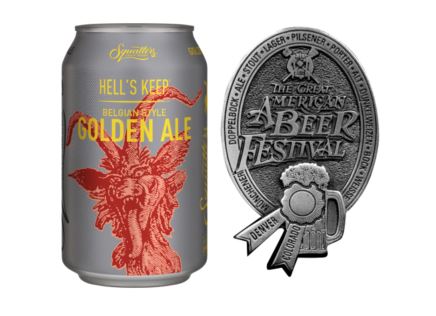 Squatters Craft Beers earned a silver medal in the Belgian Style Blonde Ale or Pale Ale category for Hell's Keep Belgian Style Golden Ale earlier this month at the Great American Beer Festival® (GABF) held in Denver, Colorado. The win marks the fourth medal earned by the beer in GABF's annual competition.
"The flavors in Hell's Keep are complex yet very approachable to virtually any beer drinker," said Jon Lee, Brewmaster and COO at Squatters. "This beer has a clean malt base with a well hidden 7.75% ABV and the majority of flavors we rely on here originate from the Belgian Trappist yeast. Spicy and fruity, this is a beer that tastes great by itself and also pairs well with almost anything you would want to eat."
Originally brewed in 2008, Hell's Keep is a year-round brand in the Squatters portfolio. Hell's Keep has a history of success in the increasingly competitive GABF contest. The 2019 silver medal win counts as the beer's fourth medal from this prestigious competition. It received gold medals in 2014 and 2017 and a bronze in 2010, all of which were judged in the Belgian Style Specialty Ale categories. During GABF 2019, 9,600 beers were entered into the competition, representing 2,300 breweries. The Brewer's Association awarded 318 medals to 283 breweries.
"It's an honor to be recognized in a competition with so many entries by great breweries," said Lee. "The fact that Hell's Keep has medaled four times since 2008 is a testament to the skill of our brewing staff and our dedication to the style."