Fifth Street Brewpub Gets a Makeover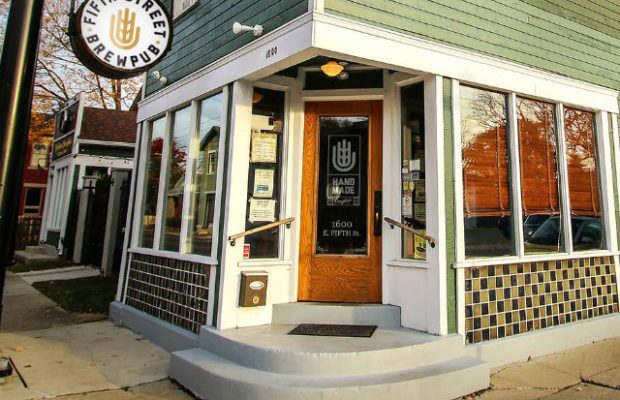 This February, fall in love with Fifth Street Brewpub all over again.
As if getting ready for a Valentine's Day date, we got a makeover. This week Fifth Street Brewpub is showing off a new outfit, if you will. We have adopted a new look with a new logo. After five years we figured it was time to refresh our branding image to remind the community of who we are and what we believe in while also reaching out to new audiences.
Working with Sharpe Creative we developed a logo that helps depict our long-ago adopted motto of "Building a Community, One Beer at a Time." The logo is comprised of a hand with barley nestled in the palm. From friendly handshakes, to our hand-crafted beer and food, to the many hands that comprise this astoundingly strong co-op, and to the helping hand we lend the community though our charity events, the hand is a symbol of who we are, what we do, and how we connect. And the barley? Well, it is tough to be a brewpub without brewing great beer.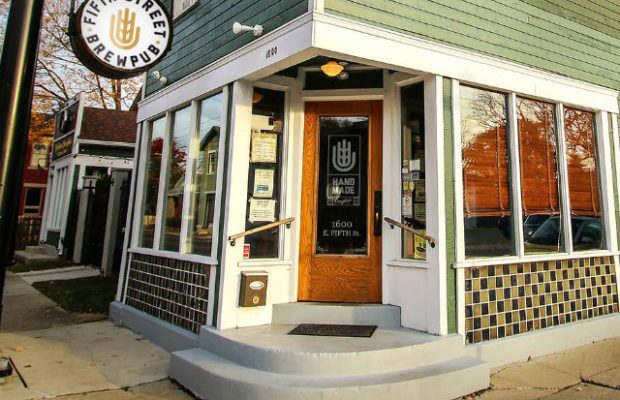 Brewmaster Darren Link turns out beers from the familiar to the unique. He is a master of the craft on his own as well as when partnering with local homebrew winners. Mint Cookie Stout, one of our most well-known beers- is an example of such a partnership with local Jim Witmer. Primarily delicious brews like this are only poured in the brewpub and through limited draft distribution. However, this week we are offering a new brew in bottles. Fifth Date, a stout brewed with lactose, fermented with cherry, and conditioned with chocolate, will be available in bottles beginning 4pm on Thursday, February 8th. 22oz bottles of the 6.5% ABV brew will be for sale in the brewpub and select regional bottle shops. This release makes the beer perfect for getting cozy and sharing the love this Valentine's Day.
Additionally, to pair with this new beer (and all our other fabulous brews on tap) we've crafted a new food menu. In following our brewpub fare tradition, this menu offers, as Chef Molly Parks puts it, "a take on familiar pub food with a comfortable, modern twist." To be frank, it is simply a collection of food we love to eat while drinking beer. Top sellers such as the Salmon B.E.L.T., Henry Street Chips, Turkey Avo, and our Ohio-raised beef burgers are joined by 24 new menu items. We are doing a soft launch of the menu beginning Tuesday, February 6th and then an official launch on Friday, February 9th.
About Fifth Street Brewpub:
"Building a Community, One Beer at a Time" is not just a slogan, it is a who we are to the core. Started in 2012 by the passion of 32 community members, a once rundown former bar was crafted into a neighborhood brewpub supported by a community of over 3,200 member/ owners. Nestled in St. Anne's Hill Historic neighborhood among Victorian houses and small businesses, we are a neighborhood pub with a great big heart for giving back while quenching thirsts and filling appetites. So, come on in, grab a beer. Member or not, our doors are open to all.