Earnest Brew Works Set To Open 3rd Taproom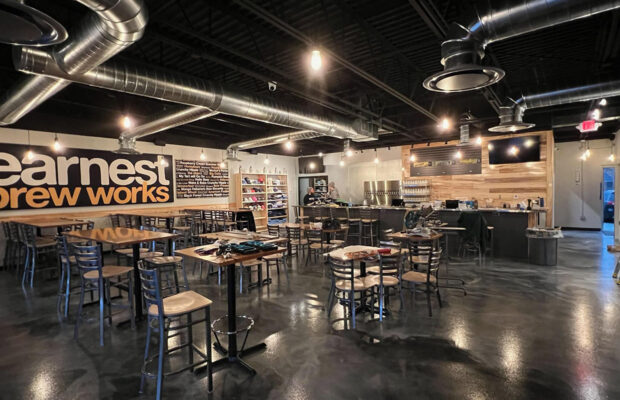 Toledo's Earnest Brew Works (ebw) has announced that it will open its third Toledo-area location with the debut of its Westgate taproom, located at 3134 W. Central Avenue. The newest location will open at 4 p.m., Thursday, March 30 with a Grand Opening ceremony beginning at 5:30 p.m.
Instead of a traditional ribbon cutting ceremony, City Councilmember Sam Melden will be tapping a large cask of beer for the Grand Opening celebration.
The cask to be tapped — referred to as a Kilderkin — will be filled with earnest's American Festbier Lager, the perfect beer to raise a pint and welcome the opening of ebw-Westgate. Westgate will have 18 earnest beers on tap at all times, along with six-packs to go, plus Blake's hard cider, Woodbridge wine and White Claw hard seltzer for purchase.
The Westgate location will be similar to the original taproom located in South Toledo with great barkeeps, a large outdoor patio, a wonderful casual atmosphere with plenty of parking along with bicycle parking. Also like the original taproom, no food will be served, but patrons are encouraged to bring in food from any local neighborhood restaurant!
Earnest Westgate will be open the same hours as the South Toledo location: Monday-Tuesday 4-9 p.m.,;Wednesday-Thursday 4-10 p.m.; Friday 2-11 p.m.; Saturday noon-11 p.m.; and Sunday 1-7 p.m.
The original South Toledo location and Downtown location will remain open as well.