DESTIHL to Expand to NY; Acquires Wine, Mead License
On July 10, DESTIHL Brewery will expand distribution of its beers to New York.
In late March, DESTIHL opened a new 47,000 square foot production facility in Normal, Illinois. DESTIHL broke ground on the project in June 2016.
"Building the new production brewery is enabling us to move forward again with our expansion into new and exciting markets like New York City", said Founder, CEO and Brewmaster, Matt Potts. "We look forward to this opportunity and see a bright future where DESTIHL beers are welcomed into the New York craft beer fold. For years, we've seen fans in New York seeking out our beers. So, we've teamed up with S.K.I Beer Corporation, a distribution team that shares this vision and is comprised of individuals that are not only enthusiastic fans of our beers but can also help make this vision a reality."
Beers from the Wild SOUR Series (including cans of Here Gose Nothin'®, Flanders Red and the dry-hopped sour SynchopathicTM) are hitting New York in July along with the brewery's core year-round offerings such as Weissenheimer® Hefeweizen, Vertex IPA®, Abbey's Single® Belgian Ale and other brands as well. You can expect to see several of these offerings at over 15 launch events throughout the city from July 10-13 in Manhattan, Long Island, Brooklyn, Queens as well as northeast into Tuckahoe.
DESTIHL also announced that it has acquired the requisite license to brew hard cider, wine and mead.
This announcement and milestone in DESTIHL Brewery's history shortly follows the grand opening of DESTIHL's new production brewery and Beer Hall located in Normal, Illinois. DESTIHL Brewery will join several other notable breweries that have expanded their portfolio to include other types of alcoholic beverages.
"We've always been enthusiastic about taking the next step as a company", Potts said. "We've shown this through our innovative WiLD SOUR Series, our expansive barrel-aging program and, most recently, the installation of our large, dedicated sour brewing system at our new production brewery.  The addition of hard cider to our lineup is just another way of widening our portfolio and providing products that satisfy the needs and wants of craft beverage consumers."
DESTIHL's first two hard ciders were brewed in late May and are available now as draft-only releases in The Beer Hall at DESTIHL Brewery. Guests can choose between a dry apple cider and a pear cider.
The manufacturing of hard cider, wine and mead requires an alternating license to beer manufacturing due to the proportion and type of ingredients required in the making of the various beverages. Beer manufacturing requires the use of malted barley and grain in over 50 percent of the recipe bill. If a different ingredient comprises over 50 percent of the recipe bill, that beverage can no longer be considered a beer. Examples of ingredients that exemplify this distinction between beer and cider, wine and mead, would be apples, grapes and honey, respectively.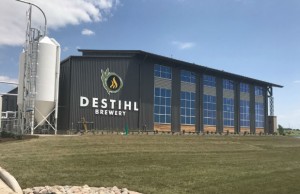 Send new beer release or brewery news to Jon@TheBrewerMagazine.com.