Co-op Breweries Thrive in Austin Beer Scene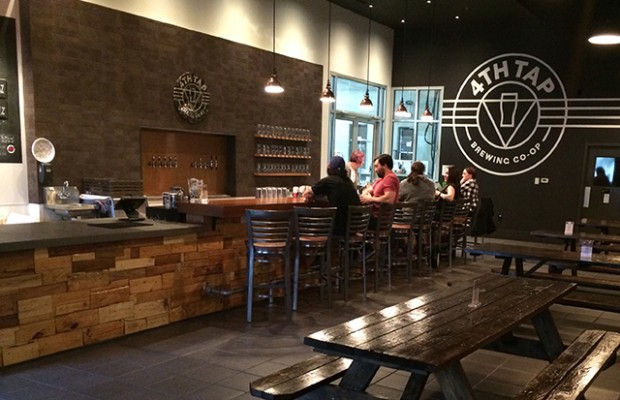 No bosses. Everyone has a say.
It's worked so well for Austin's Black Star Co-op Brewery that it has spawned a similar co-op in 4th Tap Brewing, which opened recently in the burgeoning brew borough.
Although both are called co-ops, each tackle that from different angles.
Black Star is a member-owned/worked-run brewpub which produces about 700 barrels per year and has been open for five years. 4th Tap is a worker-owned/worker-run brewery that has a taproom and has already exceeded its initial goal of producing 1,800 bbls for 2016 after opening late in 2015.
Only three months into production, 4th Tap head brewer and co-founder Chris Hamje (who cut his teeth brewing as the head brewer of Black Star while working on the concept of 4th Tap with fellow co-founder John Stecker) is already lamenting purchasing more 30 bbls fermentors instead of 60s.
"I was being cautious, just like I am when brewing," Hamje quipped when talking about how he had planned the brewery's size.
It's much like the beers Hamje creates. He always starts on the light side of adding ingredients and works his way up. It's created quite a few Texas-centric beers.
"Sun Eater" is a gruit with a base of sorghum cane juice and dark brown sugar and is bittered with rosemary and infused with dried lemon peel while "Renewal" is a tamarind wheat ale.
Those two are always made along with a grapefruit IPA called "Long Walk."
With a staff of nine and just four full-time employees, Hamje said that everyone does their part since all are equals. The nine employees share shifts tending the taproom bar and working with the consumers to fine-tune not just the beer, but the camaraderie.
"It allows us all in the co-op to be in their with our guests and know what they are saying, thinking and wanting," Hamje said. "How they respond and just having that interaction with our guests. I think it's really valuable.
"It's hard to quantify that after just three months but I feel like we will be able to get a positive aspect from that."
When Hamje left Black Star to form 4th Tap in April of 2015, his assistant Andy Martinec took over the eclectic brewpub. Using a restaurant model, Black Star has more than 3,300 "owners" who have bought stake in the brewery while relying on the 29 employees to run the ship. Those 29 include two brewers while the rest are split into teams to run the kitchen, the brewpub and the business aspects. Each team has a leader which meets once a week while the entire staff meets once a month to make decisions.
"There can be times where everyone is raising their hands and giving input and sometimes it's just a few people leading the charge," Martinec said. "What we have is a pretty unique, hybrid model of a co-op."
With just two core beers ("High Esteem," a golden ale and "Vulcan," a Rye IPA) and 45 total recipes, Martinec has complete freedom to make what he wants, including a 2015 Great American Beer Festival winner with "Recalcitrant Dockhand," a Robust Porter.
"It's kind of whatever we are in the mood for," Martinec said. "We have a lot of freedom to be able to throw stuff in. And there are some old favorites that people like and we like to make them.
"But there is nothing set in stone and that's what I like about this brewery, there is just tons of freedom to do what I want."
Martinec noted that a lot of people in Austin are into supporting local businesses and Black Star has thrived while being able to pay what he calls a livable wage with health and dental care.
"People like coming in here and supporting that," Martinec said of the now five-year-old facility. "In the scope of breweries here in town, we aren't new anymore. We have a pretty decent following of people that support us."
Still a new kid, 4th Tap is in a blossoming part of the Austin craft beer world. It will become quite a hot spot when the new Oskar Blues facility will open later this spring to join 4th Tap and fellow breweries Circle, Adelbert's and Austin Beerworks to the area.
With plans to expand their small family of workers, Hamje said that finding the right people will be important because of how the core was built.
Many hired were people that volunteered their time to help build the brewery, which was a former box manufacturing warehouse.
"Those are the people we hired, they were in here digging trenches with us at the start and making this place habitable," he said. "Going forward, we have to look for that passion as well, even though it can't be as demonstrable as putting together stainless steel pipes for seven hours a day.
"It's that same kind of fire we need from people because we think that is what drives our business. The people. It's a communal product that brings people together."