'Brrr' A Winter Seasonal
As the temperature drops and the Christmas lights go up, beer lovers throughout the U.S. and around the world can take heed in knowing something grand is around the corner — winter seasonal brews.
Amongst those brews is none other than Widmer Brothers' "Brrr." Depending on where you live, it's an accurate title for the hoppy beer. Additionally, just like the holidays, Brrr is sure to catch up to you before you know it. Its 7.2 percent ABV is deceiving with the taste.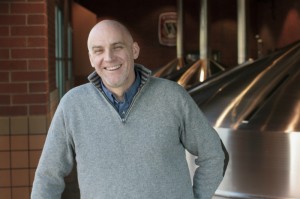 "Brrr was originally released in our 'W Series' in 2006 as our Northwest red style," said Doug Rehberg, the director of brewery operations and brewmaster at Widmer Brothers, who has been with the company for 20 years. "Fairly rich and nice caramel malt, a dark chocolate malt and a robust hoppy like you would if it was an IPA. It went through the 2006 W Series, kind of rested for a while and then we were looking for a winter seasonal in 2008, and so we decided to go with Brrr. We thought it fit the idea of a winter [seasonal], it's got a nice richness to it, it's nice and hoppy."
Rehberg touched on the 7.2 percent ABV stating that "you can tell a little bit, but it doesn't drink like a 7.2." Additionally, Rehberg considers himself somewhat of a hophead, but he believes the balance of Brrr is fulfilling to his tastes due to its maintained hoppy flavor.
"It's got some nice caramely bits to it without being too sweet," he said. "It's kind of a big beer, but it doesn't drink like a big beer, if you get me. It's got some complexity to it. I'm a big fan of a little touch of chocolate malts because I like what it does for the color and for the flavor. The hops with Simcoe and Cascade you get the nice citrus notes, but Simcoe adds sometimes a little spicier tropical to it, and the Cascade as a nice floral."
Widmer Brothers begins working on Brrr to have it ready for release through October and December, respectively. However, although the brewing process begins well before the holiday season, Rehberg said that its creation brings the holidays into the brewery even in fall.
"We obviously release Brrr pretty early in the fall, and it's a well-liked beer amongst the brewers," said Rehberg. "One nice thing about seasonals is it's like, 'oh this one is coming back, we get to brew it again and we can't wait until it's ready.' We always know when it's in bottles and going to show up in the store, or at your pub. It's one that I look forward to every year because I enjoy it so much, and I have to keep myself to a pint, maybe two before I go home."