Technology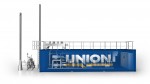 Long Business Description:
Union Engineering is world leader in CO2 technology. For further information on solutions to highly skilled brewers and brewers please contact us.
The immediate saturation and improved bonding provided by the Wittemann Pinpoint Carbonator reduces foaming during the transfer of beer. The unique injector plates inside the carbonator brings about immediately CO2 saturation in the liquid – even at low flow rate.
Long Business Description:
Water is the most important and abundant ingredient in beer; a single beer contains approximately 90% water. As a craft brewer, your No. 1 goal is to produce quality brew that generates a loyal following, and, of course, a profit. And you need clean, pure water to do that. But if your primary focus is brewing great beer, how are you supposed to make time for water management?
At Verde Solutions, we personally tailor wastewater treatment and recovery solutions to each brewery's budget, operational size and location. From start-up microbreweries, to leading craft breweries, our unique water technologies are proven to:
Lower operational costs
Reduce water usage and your environmental impact
Minimize wastewater
Meet discharge compliance
Short Business Description:
A Growth Driven Digital Agency
Long Business Description:
Webby Central is a US-based growth driven agency with experience in designing and developing interactive websites. We build websites that are visually effective and appealing to users. We just not simply develop a website. We construct an online momentum that makes you clearly visible in clutter and generate leads that convert. We ensure that your website is original and stand out from competition.