JX Steel Grit Shot Blasting Machine Co., Ltd.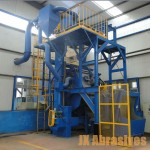 Business Name:
JX Steel Grit Shot Blasting Machine Co., Ltd.
Short Business Description:
JX Abrasives: China shot blasting machine manufacturer of shot blasting machine, metal abrasive, steel shot, steel grit, cut wire shot in China.
Long Business Description:
Established in 1993, JX Steel Grit Shot Blasting Machine Co., Ltd. (JX Abrasives)is a professional manufacturer of metal abrasives. Our products covering Hook Shot Blasting Machine, Tumble Shot Blasting Machine, Roller Conveyor Shot Blasting Machine,Cast Steel Shot, Steel Grit, Cut Wire Shot (Stainless Steel Shot, Zinc Shot, Aluminum Shot, Copper Shot), Special Steel Grit,and so on. In a variety of materials, configurations, and sizes, which widely used for surface finishing in aerospace, automotive, shipyard, railway, forge and foundry, pipe, steel structure, aluminum and other industries.
Our main products won the famous brand title and get the National Ministry of Science and Technology Spark Program project certificate. In 1998, we are the first abrasive company which has been awarded the certification of ISO-9002 international quality system and UKAS certificate together in China. Our total quality understanding and modern manufacturing technology has made JINXING the demanded brand in both domestic and overseas markets.
Send Message to listing owner