Ss Brewing Technologies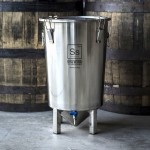 Business Name:
Ss Brewing Technologies
Long Business Description:
At last a piece of home brewing hardware that is truly innovative. What really sets The Brew Bucket ™ apart from other fermenters are features such as stacking during ferment or the included rotatable racking arm and ball valve spigot assembly. What other fermenter on the market allows you to stack one on top of another even with airlocks plugged into the lids?! As for integrated racking arms on fermenters, have you ever priced those out on competitor conicals?! Oh and did we mention the conical base on this thing?! The Brew Bucket's conical bottom allows trub to settle out nicely in a more concentrated space and has the effect of minimizing the surface area of your beer that is contact with the trub during ferment, which then minimizes "off" flavors in your beer! Does your plastic bucket have a conical base?! Didn't think so! Brewer's grade 304 stainless steel construction, integrated racking arm / ball valve assembly, stackable design, and conical bottom …. All of this for $195 bucks. That's an awful lot of fermenter for the money! Buy one of our Brew Buckets ™ and see for yourself.
Send Message to listing owner