Brew Review: ​The Meaning Behind a Grand Cru — Saint Arnold Brewing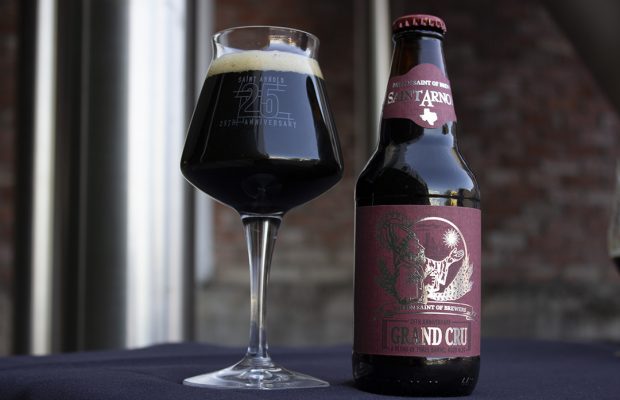 As Saint Arnold heads to a quarter of a century of production, the brewery wanted to celebrate by finding beers from its 25 years to make for its anniversary beer. Combining​ ​50% ​of Divine Reserve No. 13 (a ​Belgian-Style Quadrupel)​ with equal parts of Divine Reserve No. 15, a variation of Divine Reserve No. 5 (a Russian Imperial Stout​)​​ and its 20th Anniversary beer (a ​English-Style Barleywine​)​, the brewery created its celebration beer.​
​Those three beers are some of the most well received and internally enjoyed beers made, both in their barrel-aged and non barrel-aged forms, explained Colin Klingemann, Saint Arnold's Wood Cellar Manager and Specialty Brewer.
The Russian Imperial Stout and was the first of the three beers Saint Arnold initially produced. Originally, it was the winning recipe of a homebrew competition that the brewery hosted every year.
"This beer not only signified our ties to the passion and creativity of homebrewing but also our commitment to community and the impact that it has on us and we have on it," Klingemann said.
Around the time that Divine Reserve No. 13 was first brewed, Saint Arnold had kicked off its Icon Series — a rotating seasonal that afforded its brewers the opportunity to recreate technically authentic beer styles or develop classic styles with a twist.
"It was then that we started to look beyond the typical offerings of craft breweries and began pushing the boundaries of our technical and creative expertise," Klingemann said.
Achieving the 20-year milestone with its 20th Anniversary Barleywine showed that the Houston brewery's beers had stood the test of time and that it had truly become an institution that Houston and Texas are proud of.